There are two types of copywriters in the world... those who feel comfortable writing high-pressure, hyped-up sales copy... and those who don't.
If you fall into that second group, keep reading...
If you don't like hype, you're going to love conversational copywriting.
And luckily for you, conversational copywriting is what your audience wants too.
How come? Because today's online consumers don't like pushy, loud sales pitches.
They don't like being sold AT in the old-school, in-your-face, broadcast style.
This is why so many people install ad-blockers, and why online conversion rates are so low. Prospects are just turned off by that traditional copywriting approach.
Sooo....
If you can't sell with traditional sales copy, how CAN you sell online?

Make the sale with conversational copywriting.
With conversational copywriting you're not selling or talking AT your audience.
You're writing in a way that engages WITH your audience. It's more respectful. It's the anti-hype.
It's about engaging your audience more fully, connecting with them emotionally, and drawing them into a place where they feel ready to buy your product or service.


What you can expect from this course...
Over the course of 21 instructional videos - plus BONUS materials - I'll take you through numerous before and after examples, and over half a dozen homework exercises.

I'll teach you how to write conversational sales copy that creates a powerful desire for the products or services you're selling, and converts more browsers into buyers.
You'll learn how to...
"Conversational writing suits my style & personality much better than 'traditional' copywriting, so I'm sure I'll be putting the info in this course to good use! Thanks again." Toni Milne

"The course was great. I learned a lot. The homework was FABULOUS FUN. I keep redoing the tasks to see if I can get them shorter. That's only because I tend to talk. . .and talk. Conversationally speaking, this course is worth the bucks." Holly Helscher


Once you've enrolled, you'll be part of the powerful community that's growing up around this course.
As soon as your eyes have been opened to the benefits of conversational copywriting, I bet you'll find it hard to go back to the old-school, adversarial approach to selling.
As a conversational copywriter you'll feel like you're part of something new, and better.
And I think you're going to love being part of our community.
We gather together in a private Facebook group where we ask and answer questions, share insights, ask for and offer help... and a whole lot more.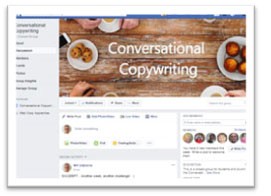 This group is open to you from the moment you enroll.
And you're invited to stay after you complete the course. That way you'll be there for new students as they start their own journeys.
This is a passionate community of copywriters who believe in a better way to sell online.

"Having a group like this with the opportunity to engage in 'conversations' with both you and the other students, shifts this course in a significant way from 'information' to 'education." This is a massive difference and adds tremendous value. Thank you Nick!"

Jim Wright
In addition, at least once a month we hold a live Video Q&A Session within the Facebook group.
Only those enrolled in the course can access these sessions.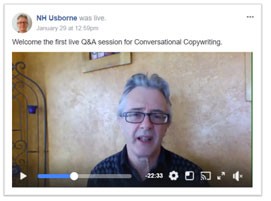 This gives you the chance to ask me any questions you like, either about the course materials as you work through them, or anything else related to conversational copywriting.
I also offer personal feedback on your homework assignments within the course itself.
With the feedback on your homework - and the one-on-one interaction through Facebook - it's a bit like being part of one of those high-end virtual coaching groups.
But without the high-end pricing.
The price of entry?
The original price of this course was $189.
But right now you can dive in for the sale price of just $137. Or, if you prefer, you can opt for two monthly payments of $74.
Is this good value for your money?
I truly believe it is. I've broken down the various elements that are included in your purchase. You can see the list below.
And I have given each element a crazy low value, when you consider that you pay just once to enroll, and that's it. There are no monthly fees.
Even though you pay the one enrollment fee, you still get access to me and my help indefinitely.
Add up the list and you get a total price of $1,050.

That's over SEVEN times the enrollment fee of $137.
So yes, I'd say that's pretty good value for your money!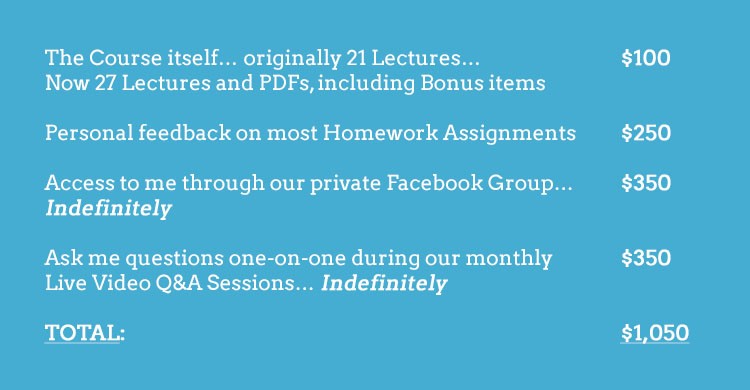 Buy the full course now for only a fraction of that total value... you pay just $137.


You want to do this, but...

You're worried you'll be signing up for yet another course you don't even finish.
Or you feel cautious about committing the time and money.
No worries.
If you enroll in the course right now, you can always ask for a full refund at any time within the next 30 days.

And the course is self-paced. Fit it within your schedule and other obligations, and take as long as you need.
One more thing... don't let one unanswered question get in the way of your future.
If you have any questions you'd like to ask about this course before enrolling, please email me at nick@conversationalcopywriting.com. I'll get back to you as quickly as I can.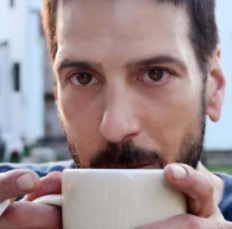 "Conversational Copywriting has changed more than the way I write copy. Nick's training has made a positive change in the way I do business. Now, with Nick's help, my writing is aimed at intimately connecting with my audience. Ultimately, I've learned to engage my readers, so they're eager to know, like, and trust my brand." John Makohen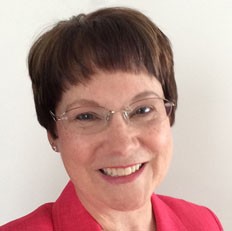 "I've seen an immediate difference in using the conversational copywriting in my emails...faster responses from clients and more "yes" answers. I'm applying it to B2B technical writing too...Thanks, Nick!" Cindy Reed

"Nick showed me how the big, wide wonderful world of the web turned traditional marketing strategies upside down and opened the door to conversational copywriting. Gone are the days of one-way shouting. The human element of doing business is now key." Judith Blaeske